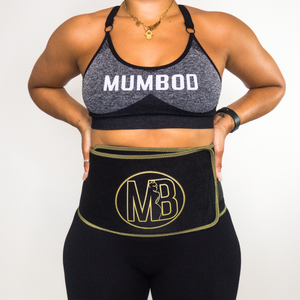 Mumbod
MUMBOD Sweat Belt
Sale price Price $13.00 Regular price $32.00
Tax included.
Shipping
calculated at checkout.
SWEAT
The Mumbod sweat belt uses thick neoprene to encourage an increase of your core temperature during exercise. The adjustable belt is both perforated and latex-free so while it will raise the temperature around your stomach, it will also be breathable and comfortable for your skin.
The increased temperature and preserved body heat helps to reduce water weight especially around the covered abdominal area. Using the Mumbod Sweat belt during exercise can optimise your training efforts.
The grid inner lining of the belt not only repels moisture absorption but limits the belt from slipping out of place or bunching up during your workouts.
The outer layer has a sweat resistant material meaning you won't have to worry about your belt becoming soggy and wet to touch.
SUPPORT
The Mumbod sweat belt is contoured to fit around your waist comfortably. The elasticity of the belt ensures a natural and flexible hold to your body, providing both support around the back and protection in the stomach area.
The belt's compression adds additional stabilisation to the lumbar region which can help reduce fatigue and pain while you build your core strength. Improved core strength results in better stabilisation, balance and posture for your whole body.
The durable hemmed stitching and double locked Velcro closure ensures that once you lock the Mumbod sweat belt in place it will not loosen or come apart no matter the activity or exercise being performed.
The belts design removes any excess material hanging from your body meaning it can be neatly tucked away underneath your clothing for a discreet look and feel.
MUMS
The Mumbod sweat belt can provide added protection to what can become a weaker and more sensitive area after childbirth. By covering and holding your stomach in place you will feel more confident going about your normal day to day activities or during exercise.
A mother's back after pregnancy can become very sore. Let's face it, those babies aren't light. Neither is the extra water, breasts or expectations that are now resting nicely on your head after having a baby. However, not only will this belt keep your back feeling tight and posture more upright, it will help to carry the load mentally. Every time you strap that belt up,'The Bod' will be staring right back at you screaming 'GO GET IT GIRL!'. She will be your constant reminder that you are an amazing woman and if you do come across a low day (and there will be a few) she is also a reminder that you aren't the only one.
WWW.MUMBOD.COM isn't just a place to buy but it's a place for support (no pun intended), through our products, blogs, services, posts and messages you can be sure that there is someone or something that can help you. 
We are all here for each other.
'THE BOD'
When you wear the logo, you do more than show a brand. You display YOUR interpretation of her, you show off YOUR greatness.
More Details
CE & FDA Approved
Material - Polyester and neoprene
Cleaning - Hand wash with mild soap and warm water. Leave to dry.