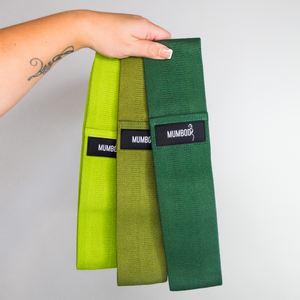 MUMBOD
MUMBOD Resistance Bands
Sale price Price $14.00 Regular price $24.00
Tax included.
Shipping
calculated at checkout.
TIME FOR RESISTANCE: High-level resistance, stretch and support.
The MUMBOD Resistance Bands delivers the perfect booty, stomach and leg shaping workout. Activating your abs, hamstrings, glutes, quads, adductors and abductors these exercise bands apply consistent force throughout the whole movement. This ensures every muscle fibre is being worked and toned.
3 RESISTANCE LEVELS:
(high resistance - 40-50 lbs)
(medium resistance - 25-35 lbs)
(low resistance - 14-25 lbs)
NON-SLIP STRETCH TECHNOLOGY: These bands DONT SLIP!
Featuring a combination of cotton, polyester and rubber silk, the MUMBOD Resistance Bands can be stretched over and over again.
Each exercise can be performed with no loss of tension, no slipping and no fraying. Its soft fabric build also ensures it feels super-comfortable against your skin.
SUPERCHARGE YOUR GYM WORKOUTS: Added Burn.
Incorporate our MUMBOD Resistance bands into your gym sessions to help correct form and increase the burn. Ideal to build and strengthen smaller supporting muscles when performing workouts such as squats, lunges, leg press, kick backs and more!
FREE CARRY BAG: Throw them in and go!
Mesh drawstring carry bag to easily remove the bands and jump straight into these muscle-toning exercises right in the comfort of your own home or gym. Suitable for a beginner, new mom or a pro athlete
For more resistance band workouts, live workouts, blogs and day to day woman stuff.